Women's International Center Scholarship Recipients
2012 Women's International Center Scholarship Recipients Include: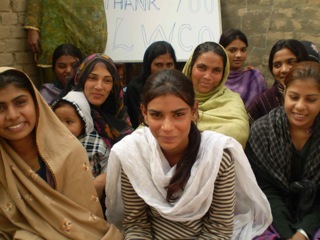 Little World Community Organization in support of Schools for Girls in Pakistan
Hope looks like 30 schools financed by the people who attend the school. Hope looks like 4,000 students where there used to be almost none.
In Pakistan, Little World Community Organization is helping the poor to end poverty by honoring their simple and effective motto: "Help Others to Help Oneself."
LWCO has taught thousands of impoverished village women to be respected community leaders. They are becoming teachers who educate their communities and families. Inspired by hope, they often learn to read and write in one year. They also learn to make beautiful and creative crafts like embroidered greeting cards to support their schools, homes, and most recently, 2010 flood victims. Five dollars, the cost of one card, is also the cost for one person to attend an LWCO school for one year. LWCO grew to two thousand women in its first year. There are 30 schools and dozens of requests for more. LWCO supports the foundations of prosperity: generosity, independence, cooperation, confidence and creativity. http://lwco.org
see the video here: http://www.youtube.com/watch?v=vOegxNYZ2Jo&feature=youtube_gdata.
The White Rainbow Project (WRP) is a Christian humanitarian organization dedicated to helping the widows of India. It was inspired by the film "White Rainbow" which chronicles the struggle to change centuries of injustice and cruelty towards widows in India. The WRP primarily works in Vrindavan which is known as "the City of Widows" because over 16,000 widows live in desperate conditions there. Oprah Winfrey recently highlighted this mysterious city on her show and called it one of the most disturbing places she has ever visited. The WRP partners with local Indian non-profit organizations to help destitute widows by providing shelter, food, medical care and vocational training. We lead WRP service volunteers several times a year to not only provide physical care for these women but emotional support as well as we demonstrate love in many tangible ways. We hope that the trips will be meaningful and life changing for the participants as well as for the women for whom we care. To learn more please visit our website at www.whiterainbowproject.org Seek justice, rescue the oppressed, defend the orphan, plead for the widow. Isaiah 1:17
With special thanks to Other Worlds (WIC Outstanding Organization Award 2011) and to the brilliant and courageous author activist Beverly Bell for nominating most-deserving Emem Okon and Berta Cáceres for 2012 WIC Sisterships:
Emem Okon has been selected to receive a WIC Sistership in 2012 for her important work in Nigeria in support of human rights. She is featured in Birthing Justice: Women Creating Economic and Social Alternatives (Beverly Bell and Other Worlds, 2012), a collection of 12 interviews with empowered women who offer alternative visions as they birth a new and more just world order.

By Emem Okon. Port Harcourt, Niger Delta, Nigeria -- "I am a community mobilizer with a passion for mobilizing women for action, for peace, and for their rights. I work with Kebetkache Women Development & Resource Centre in oil-impacted towns and villages -- that is, in areas where oil companies are drilling -- in the Niger Delta. Here we have Shell, we have Chevron, we have ExxonMobil, among others. Two problems are neglect of the region in terms of development and also the degradation of the environment by the oil companies. There are serious cases of oil spills and gas flaring -- horribly toxic for the environment and the people. We're not getting anywhere in getting the oil companies to clean up..."
Berta Cáceres is a strong, brave, passionate, sensitive, and motivated humanitarian who is a dedicated to human rights in Honduras, Central America. The Women's International Center honors her with a 2012 Sistership in recognition of her bold and fair voice and actions, always used to defend justice.
"Ms. Cáceres is a leader of The Civic Council of Popular and Indigenous Organizations of Honduras (COPINH) that has made public declarations against systematic repression and human rights violations. They condemn acts of violence, including assassinations (for example of Nery Orellana and others who have defended human rights).
Other Worlds received an urgent appeal from their friend and ally Berta Cáceres of the indigenous organization COPINH in Honduras. Berta said that, as has been the case with all of the groups resisting the military coup in Honduras, COPINH had suffered an increasing number of death threats and attacks against them. When members of COPINH traveled to attend the launch of a sister radio station in a nearby community, the house that they were staying in was shot up with high caliber weapons. They have been followed and monitored openly, the young people who worked on their community radio station had been threatened, and there had been attempts to block the frequencies of the stations. Six Honduran journalists had been murdered. We are filled with outrage and sadness at these vicious attacks against incredible people who have dedicated their lives to creating just alternatives." Quote taken from www.otherworldsarepossible.org, used with permission from Other Worlds. Photo credit: Lauren Elliott
2011 Women's International Center Scholarship Recipients
Helia Lajeunesse, a women and children's rights activist in Haiti. Helia is a dedicated and effective outreach worker in the movement against child slavery and gender-based violence in Haiti. She is deeply engaged in community education and intervention, working full-time as a volunteer with the organization Commission of Women Victim to Victim. Helia's work is not only based on passion. Her entire life experience is a reflection of the need to combat child slavery and gender-based violence in Haiti. Helia is herself a former child slave, a rape survivor, and the widow of an assassinated husband. Her daughter and 4-year-old granddaugher have also been raped. In her deepest moment of poverty and despair some years ago, before she became conscientized and active, Helia was forced to put all her children except a small baby into the child slavery system. She has since reclaimed her children. Now Helia raises four children (a fifth was killed in the earthquake) and her granddaughter on her own, with no form of support except occasional small gifts from friends. Please see the following link to read Helia's testimony from the National Catholic Reporter's Cry Justice! Cry Hope! publication: http://ncronline.org/news/women/former-slave-fights-slavery. (Nominated by In Other Worlds)

The Dr. William Kupiec Academy for Girls was officially opened on September 9, 2009, in Idah, Nigeria. This school is specifically for girls grades 7-12, in a country where girls may only receive an education up to the 6th grade. The school provides education and housing as well, for both Christian and Muslim girls. Current enrollment is at 78; however, upon completion of the school, will be able to accommodate 400 students, which will mean adding one class per year. The Academy is one of the most recent projects in Nigeria by Friends of the Poor, a La Jolla-based non-profit organization. While they are still working diligently to raise the funds for completion of the school, they are simultaneously securing donations for scholarships. A year's scholarship for one girl is $900; however, we are most grateful for scholarship donations in any amount, as those can be pooled together for a full scholarship or subsidize those girls on partial scholarship. Mrs. Jean Colarusso, President of Friends of the Poor (and WIC Living Legacy), has said, 'The future of Africa lies with its women. The women are so eager to play a larger role in what happens in their towns, cities and countries. When they are given a job, they make the most of it and no opportunity is wasted. Educating these women is the very best thing we can do to make a difference in Africa. (Nominated by Jean Colarusso)