Alva, That Vanderbilt-Belmont Woman
by Margaret Hayden Rector
(The first biography of one of America's richest and most powerful women who was the Manager and Financier of the American Woman's Suffrage Movement)
...now in its third printing
---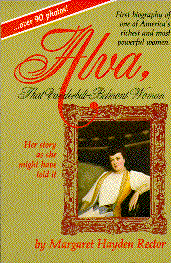 Alva Vanderbilt-Belmont was numbered among the leaders in the women's movement more than a half century before her modern counterparts. She waved the banners of the suffrage societies. In 1912, she led a march down New York's Fifth Avenue, proudly flaunting the Susan B. Anthony last words banner, "Failure is impossible...". The suffrage movement that gave American women the right to vote germinated the seed that would bring about greater emancipation.
Alva took up the "banner" and her passion and drive successfully helped change the future of women. Never one to sit on the sidelines, she lectured, passed out flyers, walked picket lines, ran soup kitchens and established housing for unfortunate women.
In 1909, Alva sponsored one of the biggest gatherings and benefits for the Movement. She moved the Women's Party headquarters from Ohio to New York City, where she set up a central office and established a press bureau. She gave her New York house as a constant meeting place for Suffrage meetings, and gave her Newport house for the 1914 Conference of Great Women. She established and financed her Belmont House in Washington, D.C., in 1917, as the National Woman's Party Headquarters.
She worked tireless for the winning of the vote for American women in 1920, and internationally for women's rights, citizenship and social and economic advancement.
Though Alva Vanderbilt-Belmont was a woman of enormous wealth, she consciously chose to use her financial resources and personal passion for justice to advance women.
Further, if you have ever experienced or wanted to experience the romance of early railroads...the lore of great architecture...the lure of fine music and grand opera...the excitement of cruising the world...the pageantry of horse racing...the thrill of yachting competition...the suspense of automobile racing...the awe of ballooning and aerial feats...the intrigue of political life...as well as the dedication of doing social work, the fascination of managing and financing a cause and the satisfaction of seeing it through to victory, then you must read Alva, That Vanderbilt-Belmont Woman.
With over 90 historic and beautifully reproduced photographs, some never before seen, as well as a thoroughly researched and accurate chronology of the legendary Vanderbilt and Belmont families, this is a book you must have.
---
Women's International Center proudly offers "Alva" to you for a $20 tax deductible contribution (includes shipping and handling).
Contact: Women's International Center, Attn.: Alva, P.O. Box 880736, San Diego, CA-USA, 92168- 0736. (619) 295-6446/Fax (619) 296-1633. Email-alva@wic.org.
---
WIC Main Page | Biographies | Words of Wisdom | Newsletter | Birthdates | Living Legacy Awards | Contributions

Women's International Center
P.O. Box 880736
San Diego, CA. USA 92168-0736
Tel: 619-295-6446
Fax: 619-296-1633
Email: info@wic.org

Webmaster: Claudia DaMetz