Phyllis Daniel Parrish
Community Leader and Dedicated Volunteer
---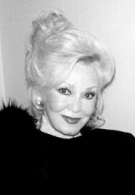 Women's International Center First Annual Legend of San Diego Award
Phyllis Parrish is a passionate and caring lady. She is a woman of passion for family, friends and helping those in need. A wife and mother first, however, she feels a duty and responsibility to help those less fortunate.
Moving to La Jolla 22 years ago from New Orleans with her husband John and their three children, John, Cynthia and Christine did take some adjustment but within a year she was on the Art Council of the Museum of Contemporary Art and working on their Grand Opening. Since that time, Phyllis' dedication to the arts and to the needs of others began in earnest. She has helped many organizations to raise thousands of dollars for their benefit and charities.
A partial list of her charitable volunteer positions and activities would easily fill this page. However, some of her many noteworthy volunteer efforts include: Chairman of USD fundraiser, USD Scholarship for the School of Nursing (still ongoing $20,000 yr.); Chairman of Old Globe Theater Renaissance Ball; Chairman of the San Diego Symphony Gala; Chairman of COMBO Fashion Show-Starlight; Chairman of A Victorian Christmas -Country Friends; Chairman, Royal Ascot Day, San Diego Multiple Sclerosis Chapter; Chairman KPBS Television Annual Auction; Chairman YMCA "Fantasy Ball" for Safe Place; Chairman, "The Big Top" Leukemia Society; Chairman, Angel Ball-ECS Community Services; Chairman of "Magic of Yesteryear" Los Ninos, Vista Hill Foundation; President of Sam and Rose Stein Education Center, Vista Hill Foundation; Décor Chairman-Charity Ball 2000-Children's Hospital; and Chairman for five years and Creator of Auxiliary for Father Wasson's Orphans in Haiti. Also, Chairman Tennis Shoe Caper for Orphans in Haiti.
In addition to all these activities, Phyllis Parrish is on the Art Council, La Jolla (L.J.) Contemporary Art Museum; Board member and Presentation Chairman, L.J. Debutante Committees; Chairman, Headdress Ball and L.J. Chamber Music New Years Ball; Board Member and Creator of Auxiliary for the Master Chorale; Chairman of Scassi Fashion Show, San Diego Opera; Chairman, Mardi Gras Ball, LJ Opera Guild; and President of La Jolla Debutante Committee for 2 years, Chairman of the Debutante Ball.
Phyllis has been honored as "Woman of Dedication" by the Salvation Army and was a board member. It is with pride and appreciation that Women's International Center also acknowledges the passion, dedication and caring of Phyllis Daniel Parrish with the First Annual Legend of San Diego Award, Living Legacy Awards 2000, March 11, San Diego, California.
---
Friends and Partners
Hotel Management companies | San Diego hotels
---
[ WIC Main Page | Biographies |