Patricia Neal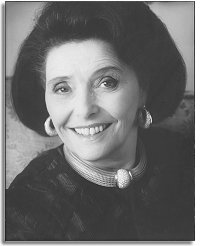 Greatness Through Understanding

Internationally acclaimed as a stage and film actress, the beloved Patricia Neal brings talent, commitment and empathy to her roles as well as to her life. She starred on Broadway in productions of Another Part of the Forest and The Miracle Worker and on film in The Fountainhead and Hud (to name but a few).
In 1966, however, the script suddenly changed, and a real-life crisis entered the picture. While making the film Seven Women, Miss Neal suffered a series of massive strokes. After surgery, she was unconscious for three weeks, waking completely paralyzed on the right side and unable to speak. Her recovery is an epic in the annals of stroke rehabilitation.
Learning from her own experience, she and her husband devised a system using amateur therapists that is now globally recognized. Thirty stroke centers using this method are now in operation in the United Kingdom alone.
Her first public appearance, two years after her illness, was in the film The Subject Was Roses, for which she received an Academy Award nomination for Best Actress. Still active in her profession, Miss Neal also works with stroke victims throughout the world, devoting much of her time to the Patricia Neal Rehabilitation Center in Knoxville, Tennessee, and giving of her special understanding every day of her generous life.