Peggy Lee
A Renaissance Woman With A Conscience
---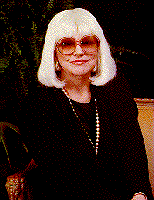 Peggy Lee's contributions to American music - not only as a singer but also as a lyricist, composer and musical innovator - exemplify popular music at its best through the eras of jazz, blues, swing, Latin and rock. Her star has never diminished and through the years Miss Lee's music has touched the soul of millions throughout the world.
She has recorded over 650 songs and 60 + albums, many which have become gold records. She appears throughout the world to standing room only audiences. Her many talents and humanitarian endeavors have provided her with countless citations, including the New York Film Critic's Award, an Academy Award "Oscar" nomination, numerous citations from the Cancer Society, the Heart Fund, the National Brotherhood of Christians and Jews, among hundreds of others.
Many will remember her great classic hits, "Why Don't You Do Right?", "Big Spender", "Fever", "Lover , 99 "Manana", and "Is That All There is?", to name but a few of her memorable hits. Currently in release is the Disney Production of "Lady And The Tramp", for which Peggy Lee wrote many of the original songs and played several of the animal characters.
Besides her many musical talents, Peggy Lee is a poet, screenwriter, author, fabric and greeting card designer, painter and humanitarian. She often donates her artistic works for auction for non-profit organizations. This multi-faceted, loving, kind and spiritual woman is currently writing her life story.
Peggy Lee presented a benefit concert for Women's International Center, raising sufficient funds for WIC to establish the Peggy Lee Music Scholarship to help musicians in time of need and for education.
Her humanitarian and professional efforts continue, benefiting thousands. Now 70+ and in a wheelchair due to a fall, the indomitable Peggy Lee is still writing songs, books, poems and, to everyone's delight, and still performing in concert around the world.
In 1994, Peggy returned to help present the Living Legacy Award to the great Ginger Rogers. She is a friend, indeed, to Women's International Center and many others.
.
.
---
[ WIC Main Page | Biographies |