Phyllis Diller
Comedienne & Humanitarian
---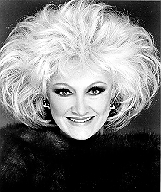 Comedienne, film, television and stage actress, author, recording artist, spokesperson, gourmet cook, entrepreneur, concert pianist, philanthropist, humanitarian and unquestionably, one of the most beloved people in show business, Phyllis Diller is a woman loved and admired by millions.
She has headlined in virtually every major supper club in the U.S. and scores around the world, as a professional comic. She writes her own rapid-fire comedy routines. Phyllis recently celebrated 35 years in show business, though she was 37 when she began her career.
She has appeared in 16 movies, scores of television specials and shows, recorded 5 major comedy albums, written four best-selling books and found time to help thousands throughout the world.
Phyllis Diller has appeared as a piano soloist with 100 symphony orchestras across the country, including performances in Dallas, Denver, Annapolis, Houston, Baltimore, Rochester, Pittsburgh, Detroit and Cincinnati.
Recently she launched several new facets of her kaleidoscopic career: her own chili, PHYLLIS DILLER' ORIGINAL RECIPE; A line of LA VIE beauty products and PHYLLIS DILLER CREATIONS, jewelry.
She did all this after rearing five children.
She has been acknowledged and honored by many organizations for her patriotic, philanthropic and humanitarian endeavors, including: the "Minutemen Award" from the U.S. Treasury Department; "Distinguished Service Citation" from the Ladies Auxiliary of VFW; "Humanitarian Award" from AMC 'Cancer Research Center and "USO Liberty Bell Award". Phyllis Diller is an Ambassador for CHILDHELP USA (Living Legacy Award, 1989.)
She was recently honored by the American Academy of Cosmetic Surgery for having the courage to publicly bring plastic surgery "out of the closet."
Phyllis continues to give and grow and Women's International Center is delighted to have the opportunity to acknowledge her with a 1990 Living Legacy Award.
.
.
---
[ WIC Main Page | Biographies |