.
Nanette Fabray
Joyful Humanitarian
.
---
.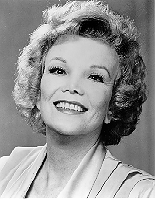 As a mother and homemaker, a hard working humanitarian, or a knowledgeable individual testifying before Congressional committees for the rights of handicapped persons, comedienne, singer and dancer, Nanette Fabray has been honored many times by her peers and by the public.
Nanette Fabray was herself handicapped for most of her adult life by a hearing problem, until four operations restored her hearing. She has been in the forefront of the rights of all disabled people. Her many official, private and governmental memberships and appointments, including being a Trustee of the House Ear Institute, note Miss Fabray as an international leader for the handicapped.
Her honors representing the handicapped are many, including the President's Distinguished Service-vice Award and the Eleanor Roosevelt Humanitarian Award. She and Helen Keller are the only women to receive the Public Service Award from the American Academy of Otolaryncology.
For many years, she worked to bring sign language and captioning to television. This past year she made well over 100 radio, newspaper and TV interviews concerning the needs of the disabled.
Recently, as Commencement speaker at Gallaudet, University she established the Annual MacDougall Creative University Writing Award to encourage deaf people to explore careers in writing.
Nanette Fabray is also well known and loved for her pervasive award winning work on stage and television.
Currently, on the 'IV comedy, "Coach", she plays the mother of her real life niece, Shelley Fabares. For six years she appeared as Katherine Romano in the hit TV show, "One Day At A Time". On Broadway, she received two Donaldson Awards for the musical, 'High Button Shoes'. She has won the Tony, and she garnered three Emmy Awards for her comedic work with Sid Caesar.
Radio and TV Editors have selected Fabray as American Woman of the Year.
A consummate performer and a dedicated humanitarian, Nanette Fabray gives her life and passion to others.
For years, Women's Int'l Center has wanted to present the Living Legacy Award to Nanette Fabray. At last, we have the privilege.
.
.
.
.
---
[ WIC Main Page | Biographies |