Major General Marcelite J. Harris
United States Air Force, Retired
Former Director of Maintenance, Deputy Chief of Staff, Logistics
---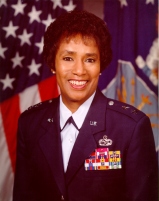 Major General Marcelite Harris is a woman of "firsts." She was the first woman aircraft maintenance officer for the United States Air Force; she was the first woman deputy commander for maintenance; she was one of the first two women air officers commanding at the U.S. Air Force Academy. General Harris served her entire 30+ year Air Force career as a woman with a mission to be the best. From September 1975-May 1978 she was a personnel staff officer and White House social aide, Headquarters U.S. Air Force, Washington, D.C.
As Director of Maintenance, General Harris organized, trained and equipped a work force of more than 120,000 technicians and managers, and maintained a $260 billion plus Global Reach Global Power aerospace weapons systems inventory, She developed maintenance policy, ensuring the readiness of the single largest element of manpower supporting Air Force combat forces worldwide. She determined and successfully defended an annual budget of more than $20 billion to the office of the Secretary of Defense, Office of Management and Budget and Congress.
Many have recognized the dedication and excellence of Marcelite Harris including the National Organization of Tuskegee Airman, naming her Woman of the Year. Dollars and Sense Magazine, honored her as 'Most Prestigious Individual'. Harris was named "Military African American Woman" for contributions to the Department of Defense, National Political Congress of Black Women. She was noted as "Black Woman of Courage" by the National Federation of Black Women Business Owners. Harris received the prestigious 'Ellis Island Medal of Honor."
General Harris received many medals and decorations including the Air Force Commendation Medal with oak leaf clusters * Presidential Unit Citation * Air Force Commendation Unit Award with "V" device and eight oak leaf clusters * Republic of Vietnam Gallantry Cross with Palm.
Women's International Center is enormously proud to present the 1998 Living Legacy Patriot Award to Marcelite J. Harris, a woman who knows the joy and responsibility of being the first.
---
[WIC Main Page || Biographies]