Lucy Killea
---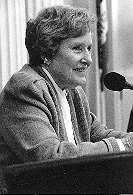 The "11th Woman" Living Legacy Award is presented to an individual who dares to challenge those who say "it" can't be done. She willingly accepts the derision and criticism of others, to show that there is an ethical and loving way to cause positive change.
"Government of the people, by the people, and for the people..." This is Lucy Killea's political, professional and personal philosophy for her constituents and all the citizens of California. State Senator Lucy Killea is a marvelous maverick. She knows what best serves the people and acts appropriately, even in the face of criticism. She is her own person.
Although Lucy Killea abhors abortion, she fights for the right of women to make a choice. She is an outspoken environmentalist, especially against nuclear waste, even at the risk of offending powerful self interest groups. Lucy introduced a bill to have government use recycled paper for their publications. As her contribution toward eliminating those ozone destroying carbons, she is now using an alternative fueled automobile and encouraging others to do the same.
She has seen first hand the results of the use of "awesome weapons of destruction" and the loss of freedom in Nazi Germany during W.W.II. She worked overseas and, upon her return to Washington, D.C., went on to become the highest ranking woman in the U.S. Intelligence Service. She is unwavering in her determination to help protect our personal freedoms and to fight assault weapons and illegal drugs.
Yes, it is difficult to fight the status quo, to risk condemnation by ones colleagues, even one's constituents, but Lucy Killea stands for principles, not politics.
Women's International Center's is so proud that Lucy Killea accepts the 11th Woman Award, acknowledging her independence, her commitment, her caring for others. She is her own person, dedicated to serving other's best interests. For all this, we thank you Lucy.
---
[WIC Main Page || Biographies]