Laura Huxley
---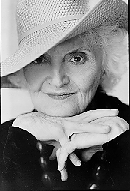 "A succession of explorations and discoveries--that is what my life has been," says Laura Huxley, whose life continues to be a series of investigations uncovering answers for her ceaseless questions about the nature and quality of life.
A child prodigy who made her first performance at Carnegie Hall while still in her teens, Mrs. Huxley began her career in the universe of violin. Beginning at age ten in her native Turin, she studied with masters in Berlin, Paris and Rome where she earned a Professor of Music degree. She also studied at the Curtis Institute of Philadelphia.
Putting aside her violin, she decided to explore wider horizons. She produced documentary films, played in a major symphony orchestra, was assistant film editor at RKO and intensely studied health, nutrition, and psychology.
In 1956, she married writer and philosopher, Aldous Huxley, and together they explored ways of opening the mind to new levels of consciousness. After his death in 1963 she wrote This Timeless Moment, a book describing life with her husband.
She has authored many books around her central concern--human relations and the vast amount of avoidable unhappiness with which people are affected.
Another reflection of her innovative thought is the 1977 founding of Children: Our Ultimate Investment, a non-profit organization dedicated to the nurturing of the possible human.
Mrs. Huxley is grandmother to her adopted child Karen, now 18. She has received widespread recognition for her humanistic achievements. These include Honorary doctor of Human Services from Sierra University, Honoree of the United Nations, Fellow of the International Academy of Medical Preventics, and Honoree of the World Health Foundation for Development and Peace--Peace Prize in 1990.
For over 80 years, Laura Huxley has been leaving her legacy. Her ongoing mission assures that her gifts to will span the globe and enlighten the universe. Her legacy is secure. Women's International Center is delighted to share her dream.
---
[ WIC Main Page | Biographies |