KAY STARR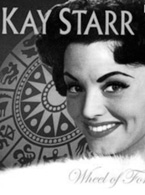 Singing star, music icon

2004 Living Legacy Awards Honoree
Women's International Center welcomes legendary entertainer, Kay Starr.
Kay Starr is a solid jazz singer whose ascendancy into the commercial sphere during the mid '50s which led her to be among the first pop singers to capitalize on the "rock fad." Her 1955 song "Rock and Roll Waltz." was a solid hit. Her biggest hit, however, came with the era-defining "Wheel of Fortune," a prime slice of '50s adult pop.
Born in Oklahoma, she moved to Dallas at a young age and made her debut on radio while still in school. A brief stay with Glenn Miller & his orchestra precipitated her working with groups led by Bob Crosby, Joe Venuti and finally Charlie Barnet. She recorded a few numbers with Barnet that earned her a solo contract with Capitol.
By 1948, Starr made her "Your Hit Parade" breakthrough with "You Were Only Foolin' (While I Was Falling in Love)." Subsequent hits like "Hoop-Dee-Doo," "Oh, Babe!" and "I'll Never Be Free" framed her in an emerging vein of the popular market that also looked back to traditional country and folk. In 1952, "Wheel of Fortune" became her biggest hit and one of the signature songs of the '50s pop sound. Several years afterwards, "Comes A-Long A-Love" topped the British charts.
With her move to RCA in 1955, though the comical Rock and Roll Waltz" which spent several weeks at number one. It was followed by an additional Top Ten entry, 1957's "My Heart Reminds Me." By the 1960s, she had begun to concentrate more on performing (especially in Las Vegas).
In the '90s, she played several oldies packages, including the "3 Girls 3 Tour" with Helen O'Connell and Margaret Whiting.
Presenting the Living Legacy Award is friend and band leader, Benny Holman.
Women's International takes pride in celebrating the life and talent of musical genius of Kay Starr.