Dr. Jonas Salk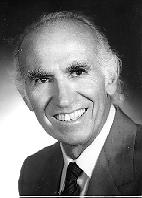 Upon receiving his M.D., Jonas Salk began his studies in immunization against influenza, trying to develop a vaccine against this disease. His attention was caught by the study of poliomyelitis, which led to the development of the now-famous Salk Vaccine against polio.
Dr. Salk planned and developed an institute for biological studies, bringing together scientists and scholars from many fields of research who shared a common interest in science and a concern for the implications of their work, both for the individual and society as a whole. Today, the internationally prestigious Salk Institute for Biological Studies is a beacon of hope for millions.
Jonas Salk had dedicated his life to finding the cure for war--in his words, "Finding a cure for the cancer of the world." His scientific endeavors, great as they are, have become a secondary factor in Dr. Salk's life. He devotes most of his boundless energy traveling to international conferences and speaking to world leaders about the imminence of peace.
The world has recognized Jonas Salk's contribution to world peace. He has been honored with dozens of awards, including the Presidential Medal of Freedom and the Nehru Award for International Understanding.
His books on peace and human survival include Man Unfolding, The Survival of the Wisest, World Population and Human Values and Anatomy of Reality: Merging of Intuition and Reason.
Dr. Salk gave the world hope for freedom from polio. He gave the world hope for freedom from global destruction.
With great pride and honor, Women's International Center offers the Premiere Presentation of the Jehan Sadat Peace Award to Dr. Jonas Salk.