Jehan Sadat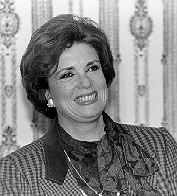 Light of the Candle

Since childhood, Jehan Sadat has had a desire to participate in the destiny of her people. Over the years she has fulfilled this wish by devoting herself to public service and to improving the status of women in Egypt.
Born in Upper Egypt in 1933, she married Anwar Sadat at the age of 16. During the course of their thirty-two year marriage, she earned a Bachelor's in Arabic Language and a Master's in Literature from Cairo University.
One of Sadat's many accomplishments is the establishment of a women's emancipation, education, and training society. Now known as the Talla Society, this group trains women in various handicrafts, and pay the tuition of nearly one thousand secondary school and university students.
Sadat's other achievements include the founding of a city where handicapped war veterans can live with their families, and participation in the reconstruction of Kasr El Einy Hospital, the first hospital for modern medicine built in the Mediterranean in over 150 years.
In 1977, Madame Sadat received an honorary doctorate from the Phillipino University for Women. The University of Kansas presented her with The Human Service Award in 1978.
In 1984, Madame Sadat received the Living Legacy Award from Women's International Center. She became Honorary President of WIC in 1985, and remains as such today. At the same time WIC established the Jehan Sadat Peace Award. The first recipient of "her" Award was famed polio vaccine discoverer and peace advocate, Dr. Jonas Salk.
As a devoted activist for women and peace, Jehan Sadat, speaks to thousands every year, urging women to take their rightful place in the world. Since 1993, she has been a professor teaching international studies at the University of Maryland.
Her first book, A Woman of Egypt , recounts her notable life as the First Lady of Egypt and her life and marriage to global peace maker, Anwar Sadat. (He was assassinated on October 6, 1981). Jehan Sadat has righteously carried forth his and her messages of peace and world understanding.