Ingrid Newkirk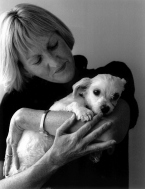 Living Legacy Award 2002

Ingrid E. Newkirk, 52 is cofounder and president of PETA-People for the Ethical Treatment of Animals, the largest animal rights organization in the world.
Ingrid Newkirk's campaigns to save animals have been featured in The Washington Post and other national newspapers. She has appeared on The Today Show, The Oprah Winfrey Show, Nightline, and 20/20 among others, and has spoken internationally on animal protection, from the steps of the Canadian Parliament to the streets of New Delhi, India.
She is the author of 'Kids Can Save the Animals!'; 'The Compassionate Cook'; '250 Things You Can Do to Make Your Cat Adore You'; and 'Save the Animals: 251 Simple Ways to Stop Thoughtless Cruelty', and numerous articles on the social implications of our treatment of animals.
Ms. Newkirk served as a deputy sheriff; as a state law enforcement officer for 25 years; director of cruelty investigations for the second oldest humane society in the U.S.; and Chief of Animal Disease Control for the Washington's Commission on Public Health.
She coordinated the first arrest in U.S. history of a scientist on animal cruelty charges and helped achieve the first anti-cruelty law in Taiwan. She spearheaded the closure of Department of Defense underground "wound laboratories," and has initiated many other campaigns against animal abuse, including ending General Motors' crash tests on animals.
She lives in Norfolk, Virginia, where PETA is headquartered and believes "Animals are not ours to eat, wear, experiment on or use for entertainment.'