Dr. Ruth Grobstein
Leading the Way for Women
---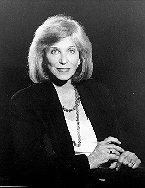 Ruth H. Beloff Grobstein has a Ph.D. in Biology and is considered one of the foremost authorities in Radiation Oncology in the United States. These credentials would be enough for many, but Dr. Grobstein felt compelled to enter medical school and devoted four more years to become fully credentialled M.D. to pursue her dream of helping women.
Dr. Grobstein has been breaking new ground most of her life. At the age of 28, with her husband and three children, she went to study developmental biology at Yale University. To attempt a Ph.D. at Yale while raising three children was unusual, but to take it in the demanding field of Biology showed her mettle. She followed that with a Post-Doctoral fellowship in Biochemistry and Pharmacology.
Beginning at Yale University as a researcher and educator, her talents were quickly recognized. In 1966, she received two major grants, one from the Atomic Energy Commission and the other from the Nadonal Institute of Health, to conduct research on immunology. After joining the faculty at UCSD Medical School, she started a program for minority students, among her many other commitments. Again, she led the way, from the study of cells to the advancement of education.
Sam Hillman, a colleague of Dr. Grobstein's, set the stage for early detection of breast cancer and the possibility of lumpectomy rather than mastectomy. Dr. Grobstein carried that research on to the point she is today ... the Founder / Director of the Ida M. and Cecil H. Green Woman's Cancer Program and head of Radiation Oncology at Scripps Clinic. She has developed a unique cancer screening program that requires only two hours. Women from around the world are now coming to Dr. Grobstein and her colleagues in the hope of early detection. ,
Women's International Center is proud to have the opportunity to acknowledge and honor your commitment to the wellness of women. Yours is truly a Living Legacy.
---
[ WIC Main Page | Biographies |