Golda Meir
---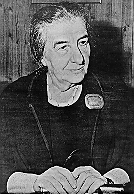 When the word "greatness" comes to mind, Golda Meir comes immediately to the forefront. Her commitment to her land and to her people was the paragon of human dedication. Her complete involvement, tempered with love, fired by fierce devotion, caused the world to know that she was a true mover of mountains.
Though born in Kiev, Russia, she moved to Milwaukee, Wisconsin with her family in 1906. In 1915, she joined the Labor Zionist Party. In 1917, she married Morris Meyerson and they moved to Tel Aviv (then Palestine) in 1921. Later they became the proud parents of Sarah and Menachem.
Eighteen years ago today (March 7, 1969), Golda Meir was nominated by the Labor Party to be Prime Minister of Israel. She held this esteemed position until 1974. Before Golda Meir became Prime Minister, she was the Foreign Minister for Israel from 1956 to 1965, During her time as Foreign Minister, she had the opportunity to work with the cooperative agricultural and urban planning programs between Israel and Africa. Golda Meir was very proud of her international, as well as domestic work. After this time she became the Secretary General of the Mapai Party. She was Minister of Labor from 1949 to 1956, a position which was her personal favorite, for she had the time to work with and for the people.
Always concerned with her people, Golda Meir, working with the Labor Movement, attended the Zionist Congress in Geneva in 1939, to help ensure protection of European Jews. She was greatly saddened to discover that many Europeans were not as caring as she thought they might be. In 1948, she was part of the People's Council signing the vital proclamation establishing the State of Israel.
One of the hardest days in the life of Golda Meir was October 6, 1973 - the beginning of the Yom Kippur War. It was a great tragedy for Golda Meir. In June, 1974, Golda Meir retired from political life.
Dates and positions do not begin to explain the lasting positive influence of Golda Meir. She is still deeply loved today by her people and by millions more throughout the world. Her dedication to her country and her personal concern for all people are legendary. Whatever Golda Meir did, she did for the people.
If Greatness is given a name, it surely is Golda Meir.
---
.