Grace Hopper
Mother of the Computer
---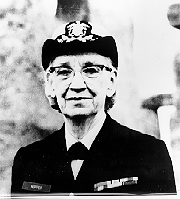 The late Rear Admiral Grace Hopper's spectacular scientific achievements have become international. She had changed the ever-growing world of the computer.
As a Phi Beta Kappa graduate of Vassar, she went on to receive a M.A. and Ph.D. degree at Yale. Her return to Vassar as an assistant in mathematics progressed to an associate professorship and further studies at New York University. She brought her mathematical abilities to the nation when, in 1943, she entered the U.S. Naval Reserve commissioned as lieutenant. As a senior mathematician with Sperry Rand, she worked on the first commercial computer. As Director of Automatic Programming, she published the first paper on compilers in 1952. Since that time she has published over fifty papers on software and on programming languages.
While on active duty with the Naval Data Automation Command, this remarkable woman traveled throughout the world speaking to thousands about the future of computers.
She had contributed over $34,000 to the Navy Relief Society from honoraria she had received on those engagements.
---
[ WIC Main Page | Biographies |