Francoise Gilot
Artist of the World
---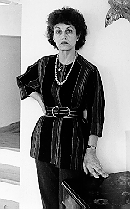 Throughout her life, French-born Francoise Gilot has combined artistic talent with academic achievement. After earning a B.A. in Philosophy from the Sorbonne and a degree in English from Cambridge, she began to express herself through painting and other art forms. By 1945, her work was internationally acclaimed.
From 1946 to 1953, she worked with Picasso, learning, teaching, and sharing the wealth of his tremendous talent. During this time she also worked with Henri Matisse.
Since 1951, Gilot has had one-woman shows in every major gallery in the world. In addition, she has illustrated four books of her poems. She has acted as a visiting professor of the Department of Painting, Drawing, and Etching at the University of California at Idyllwild.
---
[ WIC Main Page | Biographies |