Elsie V. Weston
---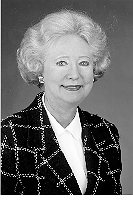 San Diego can consider itself fortunate that Elsie Weston decided to retire here in 1975. A dedicated volunteer with a flair for business (she was trained as an accountant), she immediately plunged into San Diego non-profit organizations.
Over the last 19 years, Elsie has raised millions of dollars for many San Diego charities. She has chaired over 35 benefits and serves on the boards of Scripps Memorial Hospitals, The Bishop's School, San Diego Community Foundation, San Diego Opera, San Diego Symphony, The Salvation Army, San Diego Hospice, San Diego Center for Children, California Center for the Arts, La Jolla Chamber Music Society, and Academy of Our Lady of Peace.
Named a Woman of Dedication in 1980, Elsie was again recognized for her extraordinary community contributions with the Woman of Vision Award from the League of Women Voters and the Tradition of Caring from The Salvation Army in 1992.
With love, kindness and savvy, Elsie has a mission to help others so they can also give to others. Women's International Center is proud to acknowledge and honor one of San Diego's true heroines, Elsie Weston, with the presentation of the 1995 San Diego Legacy Award.
---
[ WIC Main Page | Biographies |
.
..
.
.
.