Deborah Szekely
Civic and Government Volunteer and Contributor
---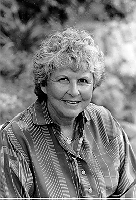 Deborah Szekely credits volunteerism as the catalyst for her growth and international impact. Her volunteer efforts have been widely recognized by scores of awards including: "Woman of the Year" by Women in Management (1987); The President's Council of Women's Services (1982) and San Diego City Club (1978). She was also named "Benefactor of the Year" by Traveler's Aid Society of San Diego (1983) and "Volunteer of the Year" by the National Society of Fund Raiser Executives (1979).
She serves as a volunteer on the National Boards of The National Center, Washington, D.C.; Partners for Livable Places, Washington, D.C.; The Menninger Foundation (Board of Trustees, Executive Committee and Vice Chairman for Clinical Services) and on the Board of Trustees for the California School of Professional Psychology.
Many know Deborah Szekely as founder of the world known and world class health spas: the Golden Door (1958); Rancho La Puerta (1940) and Fitness Resorts (1972). She began The Szekely Foundation for American Volunteerism, in 1982.
She founded (COMBO), Combined Arts and Education Council of San Diego County in 1978, which has raised over $25 million to support 21 cultural organizations. In 1978 COMBO raised over $6 million to rebuild the Old Globe Theatre.
Her dedicated role as President and CEO of the Inter-American Foundation is Mrs. Szekely's current mission. (To support the self-help efforts of the poor people in Latin America and the Caribbean). Deborah Szekely is fully responsible for channeling over $110 million in U.S. taxpayer's money directly to organizations helping the poor throughout the region.
She is an international management consultant, special government advisor to encourage corporate volunteerism, author of several globally read and distributed books, a national and international lecturer, educator, educational consultant, and internationally recognized fitness expert, serving as U.S. Delegate to the UNESCO Conference on Fitness in 1977. Deborah Szekely is truly a Renaissance woman.
Deborah Szekely is a power-house: dedicated, energetic, focused and determined. Women's International Center is honored to further acknowledge the great and good work of consummate volunteer, Deborah Szekely.
---
[ WIC Main Page | Biographies |