Diane Powers
Innovator, Entrepreneur
Owner and Operator Bazaar del Mundo
Old Town, San Diego
---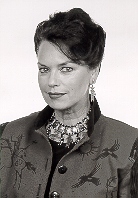 Over twenty-five years ago, Diane Powers, armed with her imagination, intuition, artistic talent, drive and incredible courage began Bazaar del Mundo, in Old Town, San Diego. What began, as a vision is today a most successful tourist and visitor attraction in California and the United States.
Inspired many years ago by the visit she made to San Angel near Mexico City, Diane brought Bazaar del Mundo to life in 1971 when she took a business risk on a bid for a derelict motel in Old Town. A six-block section of the then sleepy Old Town had been designated as a state park. Powers won the bid to rejuvenate Old Town, borrowed $25,000, dedicated her heart and soul to achieving the "impossible dream" and the rest is history.
Today, Diane Powers is owner and operator of Bazaar del Mundo, a popular complex of 16 specialty boutiques, five international restaurants and year round cultural activities nestled in the heart of Old Town San Diego State Historic Park. Bazaar del Mundo has been one of San Diego's favorite destinations for food, folklore and fun for more than 25 years.
Since Powers has developed the Bazaar, tourism has boomed. According to the San Diego Convention and Visitors Bureau, Old Town is San Diego's leading tourist attraction during many months of the year. With Bazaar del Mundo as its hub, Old Town draws nearly 6 million visitors annually-an accomplishment which spurred the California Tourism Industry to name Diane Powers as its 1994 Entrepreneur of the Year.
Other awards recognizing Powers include the 1994 Total Excellence in Management award from the San Diego Business Journal, 1996 Best Multicultural Tourism Program and 1999 Best Environmental Program from the California Division of Tourism, and 1997 Woman Business Owner of the Year by the San Diego Chapter of the National Association of Women Business Owners. Her international restaurants have received numerous awards from professional business associations and surveys. The Bazaar del Mundo is one of the nation's Top 100 Craft Retailers and 3rd largest women-owned-business in San Diego. Diane Powers is a native San Diegan who grew up in Fallbrook on a ranch and as a child rode her horse to school. Today she lives in Pine Valley surrounded by rustic beauty and her seven prize-winning horses and many other miracles of nature. Women's International Center is pleased and proud to present the richly deserved Living Legacy Award 2000 to Diane Powers, a woman whose contributions will thrive for many more glorious years.
---
---
[ WIC Main Page | Biographies |
.
..
.
.
.