Dee Aker
International columnist to WIC
---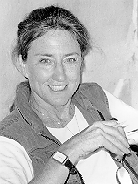 Dee Aker, Ph.D., began a sabbatical leave fall of 1995 from the University for Humanistic Studies in San Diego California, where she has been president since 1993, with attendance of the UN Fourth World Conference for Women in Beijing and her initial feature column for WIC, "Where Women Are Concerned";
Dee has been an international correspondent to the Women's Times in San Diego, as well as produced and hosted her own program on commercial television, which included 236 thirty-minute interview and documentary programs on women for KUSI-TV in San Diego, 1985 and 1991. These are now part of an oral history library on women from around the world. During the 1990s, Dee's work has taken her to Uganda, Algeria, Turkey, Ireland, Tunisia, Mexico, Taiwan, Portugal, Ireland and China. She is the former Director of an American accredited University in Nairobi, Kenya where she spent five years in the early 1980s.
Dee Aker holds degrees in psychology, anthropology (Ph.D.), international relations (MA) and biology (BS). She started her travels in the early days of the Peace Corps in Latin American and has since lived, worked and studied in India, Japan, Indonesia, Eastern and Western Europe, Central America and Africa.
She is a frequent speaker and presenter at international women's conferences, is a consultant to development programs, has worked in citizen-diplomacy, and is on several faculties. Since 1986, the end of the civil wars in Uganda, Dr. Aker has been recording the role of women in the reconstruction of that African nation. She and her husband make their home in San Diego, California.
---
[ WIC Main Page | Biographies |