Gigi Capobianco
.
---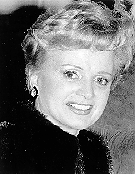 Gigi Elena Denda Capobianco was called a child prodigy at age 8, when she was accepted at the National Conservatory of Dance in Buenos Aires. At 13, she became the youngest licensed instructor, and at age 17, Gigi became an acclaimed prima ballerina. She lent her grace and beauty to the world. With such a background, one would think that Gigi's future would be set. But Gigi decided to give up her dancing career at age 20 to marry and have a family. While this may have marked the end of her career as a prima ballerina, it in no way ended her career in the arts.
A whole new artistic path that inspires through beauty emerged for Gigi, the opera. She has gone on to create the movements, make up and lighting that breathes life on stage for such operatic greats as Beverly Sills, Placido Domingo and Luciano Pavarotti. She is the right hand and devoted wife of 35 years to the internationally recognized opera conductor, Tito Capobianco. Gigi, Tito and their two sons have traveled thoughout the world, bringing grand opera to thousands.
In 1984, Gigi Capobianco made her Pittsburgh Opera directorial debut with "Manon", followed in 1985 by her direction of "Tosca". Her international credits as director, choreographer and lighting designer include performances in Hamburg, Berlin, Paris, Sydney, Buenos Aires, New York and San Diego.
Opera has the power to evoke inspiration. To make a song, a story, become great, requires the talent and vitality of a Gigi Capobianco.
Yes, Gigi, your Living Legacy of inspired contributions and dynamic vision has paved the way for others who will come after you. Your personal and artistic legacy will live for generations to come.
.
.
---
[ WIC Main Page | Biographies |