Bree Walker
Woman of Courage
---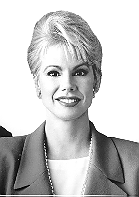 Bree Walker is known to thousands of San Diegans as an anchorwoman on the Channel 10 News Nightcast.
The story of Bree Walker's climb to the top is as unique as she is. After completing her journalistic and broadcast education, she began working her way into the competitive world of the airwaves. Although physically limited from birth, with a severe disability that would cause most others to give up, she surpassed most in a field which demands physical perfection.
Her courage and tenacity has been acknowledged nationally on Good Morning America, A.M. Los Angeles and on Cable News Network.
In "giving back," Bree Walker uses her position and talent to promote new awareness and support for programs and events for the disabled. In 1981, she served as a member of Governor Brown's Subcommittee for Media Awareness during the International Year of the Disabled. In 1984, she co-hosted two programs on the Special Olympics, one called A Game of Hearts.
Mrs. Walker received a Media Access award in the category of Individual Achievement, presented by the California Governor's Committee for the Employment of the Handicapped. This award recognized her as one who has contributed the most to generating increased exposure and positive awareness of people with disabilities through media presentation and participation.
---
[ WIC Main Page | Biographies |
.
.