Billie Jean King
Pro Tennis Legend
---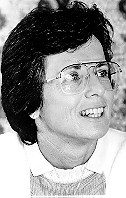 Billie Jean Moffit was born on November 22, 1943, in Long Beach, California. In her early years she was an exceptional softball player; yet, Billie Jean knew that there was no significant future for a woman in softball. Her parents introduced her to tennis, the game that would change her life and the lives of other women.
In 1967 she was selected as "Outstanding Female Athlete of the World". In 1972 she was named Sports Illustrated "Sportsperson of the Year", the first woman to be so honored; and in 1973, she was dubbed "Female Athlete of the Year".
She was the first female athlete to win over $100,000 prize money in a single season. Billie Jean King spoke out for women and their right to earn comparable money in tennis and other sports. Her constant lobbying and commitments have broken many barriers.
Billie Jean King established the first successful women's professional tennis tour. She founded tennis clinics for undeprivileged children. For her contributions to tennis as President of Tennis-America, Billie Jean King was awarded the National Service Bowl.
---
[ WIC Main Page | Biographies |
.