Bente Borsum
---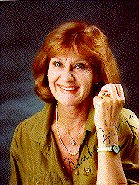 Bente Borsum is a talented actress performing with the Norwegian National Theatre. Born just before W.W.II, Ms. Borsum decided on an acting career while in boarding school. She was accepted for the National Drama School and after finishing three years of school earned a permanent job with the National Theatre.
After a couple of detours caused by children and a yen for a farming career, Ms. Borsum returned to Oslo and began acting full-time. She has had a permanent position with the Norwegian Theatre for 25 years and has been director of the Norwegian National Drama School. As drama school director she broadened her students' experiences by bringing stage directors from abroad including San Diego.
As an actress with a permanent company, she has played every part from the craziest farce to the deepest drama. She considers her greatest challenge to be bringing the most sketchy comedy role to life.
Bente Borsum is widely respected and admired throughout Europe for her acting, directing and production talents, as well as for her consistent outreach to younger artists who need professional expertise and encouragement. She is a good and caring mentor and teacher.
Women's International Center is delighted to have the privilege to acknowledge and honor the continuing gifts of Bente Borsum to her country, its citizens and her colleagues with the 1995 Living Legacy Award.
---
[ WIC Main Page | Biographies |