Ana Maria Azzarolo, Ph.D.
---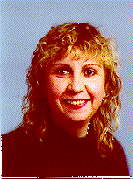 The selected recipient of the Mary Vaughn Scholarship for 1995 is newly 'hooded' Ph.D. in physiology, Ana Maria Azzarolo. Dr. Azzarolo continues her study and research of diseases affecting women, particularly, older women, at her graduate alma mater, University of Southern California.
Originally from Chile, where Ana Maria received her degree in pharmacology, she immigrated to Canada where she was a Graduate Student in Physiology and later a Faculty of Medicine Research Assistant in Physiology and Nephrology at the University of British Colombia. After coming to the United States, she was a Teaching Assistant in Pharmacology at the University of Southern California. In 1990, she launched her upper graduate program in Physiology and Biophysics at USC. Ana Maria became Dr. Azzarolo, when she received her Ph.D. in late 1994.
Her research and publications strongly emphasize Dr. Azzarolo's deep concern for the continuing health and wellness of older women, especially as disease and aging affect sight and body dryness (Sjogren's Syndrome).
Women's International Center is proud of Mary Vaughn for endowing the scholarship which bears her name, and equally proud to present the Mary Vaughn Scholarship to a woman who is dedicated to good health for all women, Dr. Ana Maria Azzarolo.
---
[ WIC Main Page | Biographies |