Anne Jeffreys
Actress, Singer, Humanitarian
---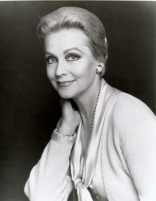 "Anne Jeffreys seems able to be almost any place, at any time, in any guise...so great is her versatility. A dedicated actress and singer, she has appeared in opera, the Broadway stage, in night clubs, films, television and stock companies, gathering success in all mediums."
Born in Goldsboro, North Carolina, Anne started her professional career while a teenager. Studying for an operatic career she became a junior model for John Robert Powers and later was offered and accepted a role in a musical revue, "Fun for the Money," to be produced in Hollywood. This led to her winning her first movie role with two of her idols, Jeanette McDonald and Nelson Eddy in "I Married an Angel."
Placed under contract to Republic Studios she appeared in a dozen films, one of which was "Flying Tigers" with John Wayne. RKO bought out her contract in order for her to co-star with Frank Sinatra in "Step Lively." Between her major film assignments, Anne continued her singing career performing with the Ford Symphony and the Los Angeles Opera Company. She was signed for the musical version of "Street Scene" and received critical acclaim, followed this by starring on Broadway in "My Romance," "Bittersweet" and "The Merry Widow." Cole Porter offered her "Kiss Me Kate" and she spent two years and 887 consecutive performances in that classical musical.
During her "Kiss Me Kate" run at the Shubert Theater in New York, Ann met Robert Sterling, an actor appearing in "Gramercy Ghost" at the adjoining Morosco Theater and the couple were married six months after their first meeting.
After 45 years of a happy marriage and three fine sons, and a well-rounded career including two years in the "Topper" series, the gregarious Hasselhoff's mother on "Baywatch," Anne spent four years on Homeshopping Network, selling her own skin care and personal perfume, "Now and Always." *
Anne continuously works for many charities. She is Ambassador for Childhelp USA. Anne's list of awards for her humanitarian works are numerous and awesome. Anne Jeffreys serves on many Boards including American Cinema Awards Foundation and Los Angeles Civic Light Opera, to note two of her many civic endeavors past and present.
Women's International Center takes great pride in presenting the 1998 Living Legacy Award to a woman for every season, Anne Jeffreys.
* From the syndicated column, "Where Are They Now?" Jess L. Hoaglin, columnist.
The Official Anne Jeffreys Website
.
.
---
[ WIC Main Page | Biographies |