Mary Cain Youngflesh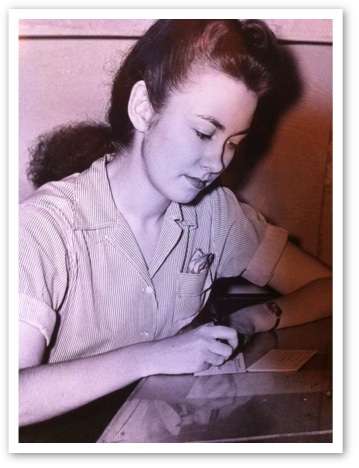 In 1942, the United States was unified behind one cause: World War II. It is well known that without the involvement of women in the war effort, the US would not have prevailed. With many soldiers overseas, women began to join the workforce like never before.
One woman, Mary Cain Youngflesh, worked for Goodyear as a riveter. She was prized by the company for her exacting work securing the rivets in blimps that would quietly float over the ocean scanning for submarines. During a search of over 3,000 candidates, Mary Cain Youngflesh was chosen as the "face" of Rosie the Riveter.

Although there are other names associated with real-life Rosie the Riveters, it is Mary Cain Youngflesh who graced the covers of countless national magazines in 1942 as the Face of Rosie the Riveter. She was a true Riveter and inspired more than six million women to join the military effort.
Currently a local North County San Diego resident, she lives with her son Larry and is a dynamic 90-Year-Young mother and grandmother. She is a gracious and independent woman who remains a symbol of women's empowerment. Images of Rosie the Riveter have been used alternately by feminists and to inspire support of the military.
The Women's International Center celebrates Mary Cain Youngflesh for her dedication to our country and as a symbol of women's empowerment everywhere.