Margaret Brown-Hurst, Ph.D.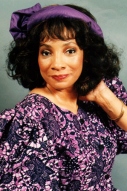 Medical Humanitarian, Innovator,
"Goodwill Ambassador", Philanthropist
Margaret Brown-Hurst sets an example as a woman who has devoted her life to help the less fortunate. After the tragic death of her grandson, Lamajze Donnell-Brown, to a serious birth defect Margaret became determined to assist others who also must cope with the misfortune of a birth defect. She gave up her career to focus her full-time attention to this goal. Her commitment has resulted in the establishment of The Lamajze Gastroschisis Memorial Foundation and The Lamajze Birth Defect and Fetal Health Institute, both centered in San Diego, California.
Lamajze was born with Gastroschisis, an abdominal wall defect of unknown origin, and underwent eleven major surgeries at Children's Hospital of San Diego before succumbing after little more than one year of life. Margaret supported her son and daughter-in-law in their grief as well as dealing with her own. But instead of cursing the darkness Dr. Brown-Hurst has undertaken to light a candle that will be bright enough to light the world. Shortly after Lamajze's death Margaret decided to begin work on creating an organization that would contribute to breakthroughs in the prevention and treatment of birth defects as well as improve the quality of life for those children and families afflicted with birth defects. Her plans include assistance to families worldwide in locating and accessing specialized care and support. Her son, Jason, has become the CEO and president of the Lamajze Foundation.
Dr. Brown-Hurst's effectiveness in achieving her vision was demonstrated earlier in her career when she founded the Worldwide Crusade for Peace in 1993. In this capacity the U.S. government sent her to Russia and other communist countries as a "world peace ambassador" in 1998. In the course of this work Margaret has been privileged to interact with notable persons such as Bishop Desmond Tutu, Camillia Sadat, and the daughter of Nelson Mandela.
Margaret was raised in the San Francisco Bay area where she was a fashion model. She obtained a degree in nursing and also attended the Calvary Bible Institute. She received a Ph.D. in Theology from Bell Grove Theological Seminary.
She has been the recipient of several awards of recognition including the "100 Heroes" award from the California Black Sports Hall of Fame and the Humanitarian Award from the Southern California Motion Picture Council. Dr. Brown-Hurst has been in Dayton Ohio for the past two years and there received an American Red Cross Medical Hero Award and was honored as a Women of Influence from the YWCA. In May she will be recognized by Essence Magazine for her accomplishments. Dr. Brown-Hurst truly sees her life as a challenge for changing human lives.