Betty and Judge Ross Tharp(R)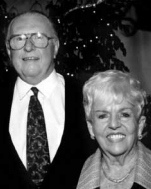 Exceptional individuals; a remarkable couple
San Diego Living Legacy Award
Betty and Ross Tharp have been an integral part of San Diego's rich texture for many years. Women' International Center is delighted to have the opportunity to celebrate the lives and contributions of two special people.
Betty Tharp was born and raised in Charleston, South Carolina. After moving to San Diego during the Korean War with her Marine husband, Ross, she became active in many civic and charitable organizations. She is a Founding Director of the Star of India Auxiliary and a former Director of the Social Service Auxiliary, as well as the Mercy Hospital Auxiliary. Betty served as Chairman of the County Heart Fund Association. She is a 0ast-President of the County Bar Association Auxiliary and the Past-President of the Auxiliary of the University of San Diego. In 1984, the Salvation Army many years of service recognized Betty as a "Lady of Dedication".
Judge Ross Tharp was born in the Los Angeles area. He graduated from Loyola Law School in 1952 and served on active duty as a Marine Corps Legal Officer until 1955. He was elected to the San Diego City Council in 1957 and served as Deputy Mayor in 1960. In 1969, then Governor Ronald Reagan appointed Judge Tharp to the Municipal and elevated him to the Superior Court two years later. He served in all branches of the Superior Court and retired in 1990 after serving as Probate Judge of the County and as Supervising Judge of the North County Superior Court. During his service on the bench, Judge Tharp nominated Mrs. June Moesar, the first woman to ever serve as Chairman of the San Diego County Grand Jury.
Women's International Center is pleased to have the opportunity to present the San Diego Living Legacy Award to two of our finest and most dedicated citizens, Betty Tharp and Judge Ross Tharp