MARIA CALLAS
(U.S.-Greek - 1923-1977)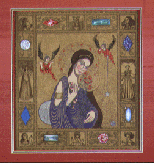 Sì: Dal Numi Percossi Non Siamo
A legend of her time, Maria's life paralleled the tragic operas for which she was acclaimed. She was one of the great dramatic sopranos of all time and a master of "Bel Canto." She had great stamina which enabled her to sing Bellini and Wagner in the same week.
SYMBOLS
1. She is painted as a Greek icon, wearing the robes of Norma (Bellini), perhaps her greatest role.
2. Radishes and roses - Once, radishes were thrown on the stage after her performance. She gracefully retrieved the radishes and held them to her breast as she took her bow. The audience went wild. Roses symbolize her legendary stage presence.
3. Diamond bracelet - Gift from Aristotle Onassis. Inside inscription: TMWL.
4. Scenes from her major performances - (upper left, clockwise):
-a. Aida (Verdi)
-b. Medea (Cherubini)
-c. Violetta (La Travita - Verdi)
-d. Tosca (Puccini)
-e. Madam Butterfly (Puccini)
-f. Elizabeth de Valois (Don Carlo - Verdi)
-g. Kundry (Parsifal - Wagner)
-h. Lucia di Lammermoor (Donizetti)
5.Angels - The drama muses.
Comedy - Applause and recognition.
Tragedy - The falling star.
6. Jewels - Her own fabulous collection which she frequently wore on stage.
7. Moon - Goddess symbol. She was frequently called a "Goddess."
Back to WIC History of Women Through Art