CLARA HALE
(U.S. - 1905-1992)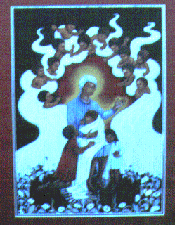 The Invested Soul
Women have always been the caretakers, yet there is one woman who has far surpassed the general concept of the nurturing one. The life of Clara McBride Hale is one filled with tragedy, difficulties and often the hard thankless work of a domestic. Yet instead of living a life of desperation, Clara's life is one of inspiration.
Clara's father died when she was an infant and she was raised by her mother who taught her the ethics of hard work, compassion and primarily a deep respect for herself which enabled her to extend this same respect for human life to all with who she came in contact.
After Clara's husband, Thomas Hale, died of cancer she worked as a domestic cleaning theatres, often doubling her work load in order to support her two young children. Gradually she began caring for other children which led her to realize her special gift of giving to this world by caring for and establishing a home for heroin addicted infants.
SYMBOLS
1. Revelation 12:1 - "And there appeared a great wonder in heaven; a woman clothed with the sun, and the moon under her feet and upon her head a crown of twelve stars."
2. Infants - Representing the many children she had nurtured.
3. Crown of twelve stars (infants) - The wisdom principle: This is the Soul invested with the light of supreme knowledge attained by experience . . . divine good and divine truth.
4. Sun - The visible image of divine goodness; illumination; warmth; a compassionate heart.
5. Crescent Moon (cradle) - Both a feminine principle.
Cradle - The ship of life; new life; a new beginning.
Moon - Universally symbolic of the rhythm of cyclic time; universal becoming.
6. Poppies - Source of heroin.
7. Pearls - Enlightenment; the embryo, the life giving power of the Great Mother.
8. Apple - A gift of love; joyousness; wisdom.
9. Foot - Symbol of the soul; serves as a support of the body in the sense of keeping man upright.
Back to WIC History of Women Through Art