Uta Hagen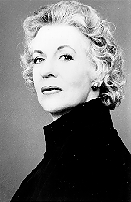 Actress, Teacher, Writer...Legend
Because she has had a long, distinguished career on the stage, and because for decades she has been one of the most important acting teachers in America, and because she has written with wit and clarity about the technical craft of acting, Uta Hagen has had a profound influence on the way acting is practiced, taught, and thought about in this country.
Uta Hagen made her professional debut in 1937 at the age of eighteen as Ophelia in an Eva Le Galliene Hamlet in Dennis, Massachusetts. In 1938 she made her Broadway debut as Nina in the Lunts production of The Sea Gull. She played in twenty-two Broadway productions, including the legendary Othello with Paul Robeson and Jose Ferrer.
In 1948 she re-invented Blanche DuBois for the national tour of A Streetcar Named Desire with Anthony Quinn, and then succeeded Jessica Tandy's radically different Blanche for the Broadway run the next year. In 1950 she won her first Tony award, the Drama Critics Award, and the Donaldson Award for her creation of Georgie Elgin in Clifford Odets The Country Girl. She starred in such classics as Shaw's St. Joan and Turgenev's A Month in the Country, and in 1962 she created Martha in Albee's Who's Afraid of Virginia Woolf, winning her second Tony and second Drama Critics Award, as well as the London Critics Award. She has also appeared in many TV specials and several films.
Since 1947 Hagen has taught acting at the Herbert Berghof Studio. Together with her late husband, she trained generations of actors: Geraldine Page, Jason Robards, and Matthew Broderick are among the countless others who reached prominence.
As Jack Lemmon wrote, This extraordinary woman is one of the greatest actresses I have seen in my lifetime, yet she has deliberately made her acting career secondary to teaching and directing others so that they might benefit. Lord knows what exalted position she might have attained had she chosen to concentrate on her own acting career, but I guarantee that she has absolutely no regrets. Nor should she, because she has given so much to so many.
Her books, Respect for Acting (1973) and A Challenge for the Actor (1991) grew out of decades of collaboration and exploration of the actor's craft.
In addition to honorary doctorates from Smith College, DePaul University and Wooster College, in 1981 she was inducted into the Theatre Hall of Fame, in 1983 into the Wisconsin Theatre Hall of Fame, and in July 1986, she received the Mayor's Liberty Medal in New York City. In 1987 she was given the John Houseman Award and the Campostella Award for distinguished service.
Since her husband's death three years ago, Hagen has taken over the chairmanship of HB Studio and the theatre of the HB Playwrights Foundation. She honors his memory by continuing to shape their school as a source of inspired teaching and practice for theatre artists.
Uta Hagen has brought beauty, drama and dreams to the world, leaving her extraordinary legacy every step of the way.