Gigi Capobianco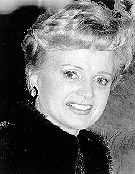 "a child prodigy at age 8"
Born Elena Antonia Fernandez on April 1, 1934 in Mendoza, Argentina, "Gigi" began performing at the age of 4 under the name, Ñeca (short for "little doll") when she regularly competed in, and won, several roller skating dance exhibitions.  From Mendoza, she moved to Buenos Aires at the age of 8 to continue her studies in the professional performing arts.At the age of 13, Gigi became the youngest professor of classical ballet at the National Conservatory of Dance as well as the School of Dance at the Teatro Colon in Buenos Aires. When she was 17, Gigi fulfilled a lifelong dream of becoming a Prima Ballerina, under the name of Toni Ferre, while at the Teatro Argentino of La Plata. Gigi lent her talent, grace and beauty to the world, achieving national recognition while dancing the lead roles in Igor Stravinsky's Petrushka and Apollon Musagète. It was during this time, she encountered a young actor/director named Tito. When he was directing the opera Rigoletto, a 20-year old Gigi crossed his stage, never paused and, in the utmost 'authority,' pointed to an error in the lighting effect.  She was right.

This provocative remark, though totally correct, led to an explosive romance that weeks later, culminated in the most surprising and intriguing marriage of the entire company.It is in this way Gigi and Tito began a legendary span of 55 years as one of the most recognized, beloved and respected directorial couples in the world of opera.Gigi quickly bowed out of her ballet career to embrace Tito's lifework to become his number one assistant, choreographer, lighting designer, make-up artist and advisor as well as his most severe, yet trusted, critic and inspiration. She was his muse and it was during Tito's 1955 production of Gigi that he began calling her by the character's same name. From the unstoppable passion that united their life, was borne two sons: Danilo Sergio & Renato Paolo.

The accomplishments in Argentina, Chile and Uruguay led to Gigi and Tito's spectacular success with the New York debut of Ginastera's Don Rodrigo with Placido Domingo. Gigi's role to Tito was one of indispensable partner and colleague.'Team Gigi and Tito' enjoyed the same success in Paris, Amsterdam, Hamburg, Berlin, Spoleto, Madrid, Barcelona, Sydney, Las Palmas, San Diego, Pittsburgh, San Francisco, Cincinnati and many other opera houses. It was Gigi's temperance, phenomenal memory, intellect, class, humility, sincerity, honesty, regard to the human being and to the profession, that won the friendship and respect of the some of the greatest artists such as Dame Joan Sutherland, Beverly Sills, Birgit Nilsson, Placido Domingo,  Luciano Pavarotti, Sherrill Milnes, Martina Arroyo, Regina Resnik, Montserrat Caballe, Justino Diaz and many more. Dame Joan Sutherland reaffirmed what Beverly Sills once said, "Tito discovers the diamonds and Gigi polishes them."Gigi's key attributes of kindness, love, class, determination, generosity and practicality are reflected in their sons and in turn, both their spouses, Julie and Tiffany. 'Nana' Gigi had great joy in doting on her first granddaughter, Casey RoseElena for 14 years and God illuminated her last day with an introduction to her four-month old granddaughter, Sasha MiaElena. Gigi accepted God's call with dignity and grace.  This is how she lived each day, as an example to all.
In lieu of flowers, the family requests memorial contributions to the Gigi Capobianco Scholarship Fund at the Academy of Vocal Arts, 1920 Spruce Street, Philadelphia, PA 19103.